<
We have combined our
speech-to-text solutions
(
more information here
) into a flexible software package that is dynamic and fast to deploy: link|that ECCO. With three areas of specialization, we can solve your requirements:
Automation through IVR with speech recognition (ECCO Attendant)

LIVE guidance during phone calls (ECCO Advisor)

New analysis possibilities based on keywords and sentiment (ECCO Analytics)
Two basic modules for three specialties
Every ECCO installation includes the basic Transcription Service module, which converts speech into text, and Sentiment Monitoring, which assesses conversations in terms of their mood.

This is how ECCO supports you
– before phone calls
– during ongoing calls
– and afterward when you benefit from new types of evaluations.

We would now like to give you an overview of the three modules.
ECCO Attendant: Automatic call guidance
"Press the 1" has had its day. In the age of smartphone telephony, callers no longer have number keys at hand. The Attendant is an intelligent mediation and replaces traditional
automated IVR decisions
with a dialogue with speech recognition.
ECCO Advisor: Live support and keyword spotting
The Advisor supports callers and employees in real time.
With keyword spotting,
phone calls get a new dynamic, because predefined keywords are recognized immediately.
With ECCO Advisor, it is possible to ensure that employees always have the right information at hand to match the topic of conversation. Thanks to the links and actions offered, searches and thus a lot of time are saved. Employees can also be alerted to a cross-selling or up-selling option if certain products or interests have just been mentioned.
ECCO Analytics: Sentiment and Keyword Analysis
The climate of discussion as a new key indicator:
Sentiment Analysis
makes it possible. The evaluation of the voice, content and tempo of all calls creates new performance and comparison values.
A novel analysis is also possible based on
recognized keywords:
How often have certain topics been addressed, what are new focal points for customers? Trends are detected and prepared in an interpretable way. We have summarized the advantages of speech-to-text with AI in the video below for you. Let's find out how speech-to-text can be best used in your contact center. Write to us at:
office via linkthat to eu
.
You can also send us a quick message: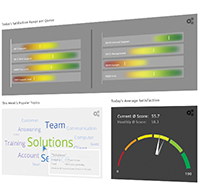 As a central point of contact for all functions and evaluations, ECCO has a management and analysis console.

Determine which actions trigger detected keywords here - or find out if conversations were generally more positive than the previous day/month.